STEVEN
Sunday Group Lessons
Instructor at Mr Dance: March 2017 – Present (Sundays)
International Standard & Latin, American Style, Argentine Tango Instructor.
CDTA Member – Professional Ballroom Instructor, Coaching and Theory.
Steven is a qualified Coach and Judicator in the International Ballroom Standard & Latin American Dance Style. He is fluent in Mandarin, English & Cantonese. He joined a lot of Pro-Am (Professional-Amateur) Ballroom Competitions. For 12 years continuously (2000-2012) he received the top teacher award in the Professional-Amateur Ballroom Competition. His community involvement: Richmond School Board, West Richmond Community Center, Richmond Chinese Community, Vancouver Chinese Culture Centre.
FRANKIE
Sunday Group Lessons
Instructor at Mr Dance: April 2016 – February 2017
International Standard/Latin Dance Instructor
American Smooth/Rhythm Dance Instructor
KEN
Sunday Group Lessons
Instructor at Mr Dance: Sept. 1999 – July 2011 (*Tuesdays) & Aug. 2012 – March 2016 (Sundays)
American Style, International Style & Argentine Tango Disco/Street Hustle Dance Classes
Ken is associate member of the Canadian Dance Teacher's Association (CDTA), in both Latin and Standard.
*After 20 years, Tuesday dance program was cancel in July of 2011.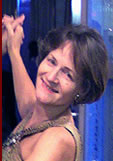 ELSIE
Sunday Group Lessons
Instructor at Mr Dance: April 1991 – Aug. 2012
Samba, Rumba, Cha cha, Jive, Samba, Slow Walz, Tango, Viennese Waltz, Quick Step, Mambo, Merengue,..and more
As of 2012 Elsie has been ballroom dancing for about 34 years, instructing for about 28 years, and giving private dance instruction for about 26 years to those whom are interested.